A Detailed Governor Of Poker Walkthrough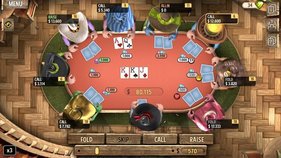 Governor of Poker by Youda Games and previously reviewed by Youda Camper gives players a chance to play Texas Hold 'Em against skillful players, play at sites gamerhint.com recommends. You can build wealth and a reputation by winning poker games and buying up property. The higher your reputation gets, the more people invite you to poker games. This goes on until you own the whole town.
A Governor of Poker walkthrough will reveal that most of the time is spent at the poker table when it comes to virtual casino. The table is well simulated with an overhead pod view. An additional nice touch to the play is that the hand and body movements of the avatars mimic real play. As a bonus, characters also have verbal and visual 'giveaways' depending on the strength and weakness of the play.
After winning and purchasing property, the keys to the properties will be included at the table. You are allowed to bet the value of the houses if you so wish. However, caution is encouraged since other players also have keys and when keys are thrown in by the short stack, then they bet bigger than expected for Calypso casino. If you have insufficient fund for a play, you have the option of selling a house, or collecting rent using the 'next day' button until you have enough for a play. The game also offers a series of 24 medals to be won depending on various situations and hands. Eventually, you can own the town and earn the right to play against the best player for the horse. After winning the horse, then you can move on to the next town and attempt to own it. An excess of thirteen cities and towns are available to be won.
The fact that Governor of Poker focuses on game play allows it to create an excellent experience and always check casino reviews. The game offers three skill levels and a wealth of challenging opponents. Although the instructions are not very helpful to newbies in Texas Hold 'Em, the game offers a lot of onscreen tips to players. Players also have an option on whether to turn the tips on or off. All in all, Governor of Poker is a great computer poker game.
Main Menu